Spring 2018 brings many fresh and season friendly trends to the entertainment and event planning scene. This year expect everything from nature-centered event themes to eclectic and whimsical event designs. There are many creative ways to bring the freshness of spring to your upcoming 2018 event. Check out this years trends to help your spring celebrations blossom…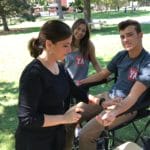 The Great Outdoors: Outdoors is in this season. And yes we do mean actual celebrations outdoors at local parks, gardens, and community centers. But this trend towards the outdoors is also reflecting in events hosted at traditional indoor venues as well. This season event designers are showcasing rustic natural and floral print linens, succulents, herbs, wildflowers, greenery, and natural elements such as wood, cork, stone, marble, crystal, and other rustic accents.
Go Bold with Color and Texture: The spring 2018 season is all about new life and transformation. Bring this sense of energy and excitement to your event through your design scheme. Designers are featuring bright contrasting colors such as orange mixed with teal, or purple mixed with emerald green. Spring also still shows trends towards metallic hues like rose gold, copper, and antiqued metals. Lastly, be on the lookout for bold patterns, textural layers, and statement decorations that may normally feel out-of-place at events such as industrial copper pipe fixtures, chicken wire, upcycled items, and natural elements such as geodes or marbles.
Whimsical Is In: If spring has you reminiscing on warm days spent outdoors, than this trend is for you. Add an element of whimsy to your celebration by adding in surprising seasonal elements. Try hanging spring themed desserts from the ceiling, offering interactive brunch buffets, or hiring unique entertainment like acrobats and other street performers, temporary body artists, and live music. Bring more of the bohemian flare to your spring function with an unusual live band such as a gypsy jazz, folk, or a bluegrass group.